Looking for Volunteer Counsellors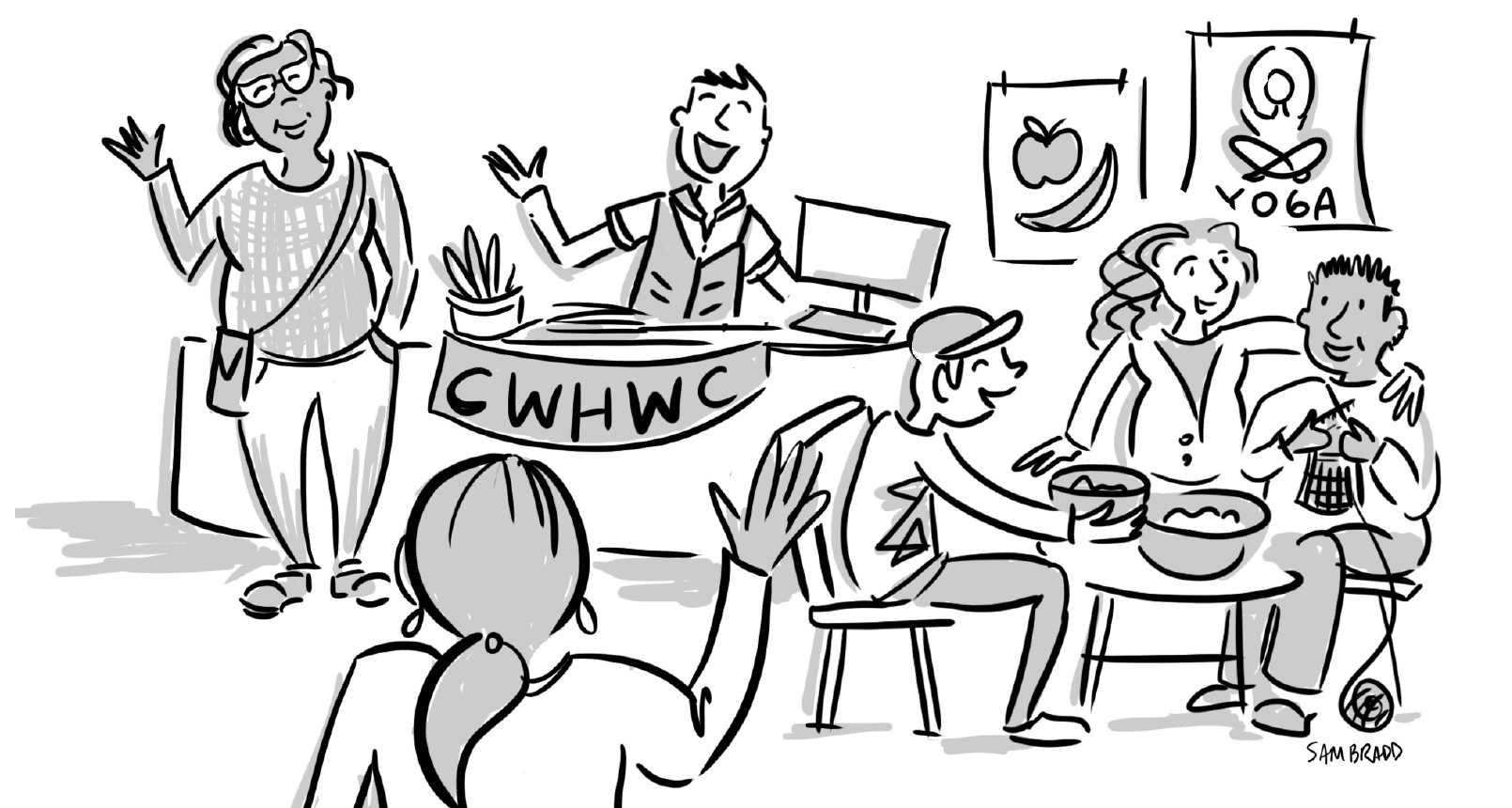 Are you passionate about ensuring that all Two-Spirit, trans, and gender-diverse folks get access to respectful, affirming counselling? Do you want to join community members in providing holistic healthcare that is by and for Two-Spirit, trans, and gender-diverse communities? Consider volunteering as a counsellor with the Catherine White Holman Wellness Centre (CWHWC)!
CWHWC is a volunteer-run, low-barrier wellness centre for Two-Spirit, trans, and gender-diverse people. We operate out of the REACH Community Health Centre on Commercial Drive in Vancouver, ancestral and unceded territories of the xʷməθkwəy̓əm (Musqueam), Skwxwú7mesh (Squamish), and Səl̓ílwətaʔ/Selilwitulh (Tsleil-Waututh) Nations. We're looking for registered clinical counsellors and registered social workers to join our team of volunteers.
Volunteering includes providing short-term and drop-in counselling services for up to two monthly clinics, attending supervision meetings every two months, and communicating and collaborating with other volunteers by email. Our counsellors will also be provided with training in low-barrier hormone and surgical assessments so that they can provide these services at the clinic (and in their own practices if they wish). We ask all of our volunteers to commit to working with us for at least one year. While we are looking for counsellors who may be able to dedicate as much as 6-8 hours per month, we are also striving to prioritize flexible hours for our volunteers.
You'll be supported in your work through individual and group supervision, as well as consultation with a multi-disciplinary team of people who are informed and passionate about providing respectful trans care. We offer child-care and travel subsidy for clinic gatherings. We use spaces that are physically accessible and minimize scents and chemicals. We strive to make sure that we find ways to make volunteering possible and accessible for our members.
Our counselling team operates from an anti-oppressive, intersectionality-aware, trauma informed, strengths-based and social justice framework. In connection with ongoing decolonizing* and antiracist work being done at CWHWC, it's our priority to centre the experiences and skills of Black, Indigenous and People of Colour (BIPoC) and trans and gender-diverse people. With this in mind, we're prioritizing recruitment of counsellors who are BIPoC and/or part of trans and gender-diverse communities, though we're open to hearing from prospective counsellors of all identities and backgrounds.
We're looking for counsellors with a broad array of skills and experience, including:
Lived, community, and/or professional knowledge pertaining to counselling Two-Spirit, trans, and gender diverse people
Experience in decolonizing*, anti-racist, anti-oppression and trauma-informed work
Experience building solidarity and relationships with members of BIPoC communities
Experience in and/or supporting transfeminine communities
Experience working with individuals experiencing suicidality, substance use, poverty, and other types of marginalization that affect trans people
Strong interpersonal and interdisciplinary skills
Collaborative and collegial approach
Comfort with self-reflection and continued learning in the context of clinical supervision
All counsellors on our team need to hold active registration with the BC Association of Clinical Counsellors, BC College of Social Workers, or the Canadian Counselling and Psychotherapy Association, and hold appropriate insurance for practice.
If you're interested in learning more about this opportunity, please send an email to shantel@cwhwc.com telling us a little about yourself, what makes you excited to join our team, what experience in life and work you will bring to the clinic and if you have any questions for us. We also welcome you to tell us about your accessibility needs if you want to share this information with us.
Becoming part of the CWHWC is an opportunity to co-create the affirming, caring spaces our gender diverse communities need. This is a chance for people to share their skills and to gain more experience working with a community-led non-profit. We are also excited to meet new faces and continue to strengthen our community and learn from one another. (See below for updates on our centre's work!)
---
More about joining the CWHWC team now
It's an exciting time to get involved with the CWHWC! The centre is in a period of evolution. Joining the CWHWC now is an opportunity to support an organization that has been an incredible resource to transgender and gender diverse communities for 7 years to figure out how to best meet the needs of community in the coming years while supporting the folks who help make the organization happen.
CWHWC is in the midst of some big shifts.We are in the process of implementing a plan developed by our BIPoC members that seeks to centre an Indigenous and decolonizing*, anti-racist, anti-oppression framework within CWHWC. This includes exploring the kinds of support and care that our communities need, including specifically health and wellness practices from traditions that are non-Western and non-Eurocentric.
We are also actively seeking funding to support our work (we are entirely volunteer-run at the moment) and entering into a conversation with our CWHWC community about how to make this shift in a way that is best for the folks we support and who work with us.
The above shifts mean that there is a lot of space for change/evolution in the organization: from organizational structure to community relationships to funding models, etc.
*A note on the term "decolonizing": We recognize that this is not everyone's preferred terminology, and we as an organization look to do the necessary outreach and dialogue on this language as part of our larger ongoing work to centre Indigenous leadership and voices.