You're Invited to the Scary Sparkle Party!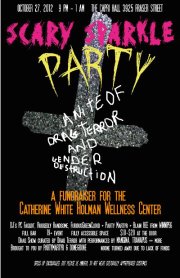 The Catherine White Holman Wellness Centre is throwing a fundraiser! We rely entirely on fundraisers and donations to keep our clinic running. These funds pay for things like insurance, medical supplies, office supplies, snacks and refreshments for clients, educational materials, our post office box, postage, and cell phone minutes.
Please join us on October 26th at Capri Hall for the Scary Sparkle Party. Your donation at the door will help us continue to contribute to the health and well-being of trans and gender diverse communities. Also know that nobody will be turned away for lack of funds. Costumes are encouraged. Please be mindful not to wear culturally appropriated costumes.(Learn more about this here and here).
Accessibility info: https://docs.google.com/spreadsheet/ccc?key=0AkEveutSlMoVdHYtWWhrV09yUHlBMnY4Qm5hVnpfcmc&usp=sharing (special thanks to RAMP for conducting this assessment).
ALSO: WE NEED VOLUNTEERS TO MAKE THIS FUNDRAISER A SUCCESS! IF YOU ARE INTERESTED, email Jen at jencanbereached@gmail.com. Thanks!